Everything EverThe Party Game You've Been Preparing For Your Whole Life
Sale price

$19.95

Regular price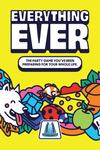 You've prepared your whole life for this!
Every movie you've seen, every show you've watched, every song you've listened to, every place you've visited, every book you've read, every kind of food you've eaten, and every person you've ever heard of makes you better at this game. It's finally time to get credit for everything you already know!
In Everything Ever, you and your friends take turns listing things from categories like "Every Dinosaur Movie" or "Every Brand of Soap". If you can't, you can change the category or push your luck and collect the card as a penalty. Keep your friends' iffy answers in check with judge cards, and win by collecting the fewest cards once the deck runs out.
You got this!
How To Play
Videos
Details
Components
250 Category Cards
10 Judge Cards
Rulebook
Credits
Game Design: Nathan Thornton
Illustration: Danielle Deley
Graphic Design: Danielle Deley
Development: Ben Harkins & Ian Birdsall
Photos: James Correia
Overview Video: James Correia
Publisher: Floodgate Games
Technical Specs
SKU: FGG-EE
UPC: 850030923172
Case Quantity: 12
Box Size: 150 x 100 x 75mm / 5.91 x 3.94 x 2.95 in.
Box Weight: .545 kg / 19.22 oz.